I think this may be the first time since I started writing 5 years ago that my relationship newsletter actually goes out on Valentines day.
Because today is a day about connecting I am going to give you a few brief thouhts on making today special whether single or happily coupled.
If you are in a relationship, sometimes Valentines Day can seem like a hallmark holiday filled with too many hearts, flowers and cards. I can appreciate that but I think the sentiment behind the day still needs to be celebrated. If, as a couple, you aren't interested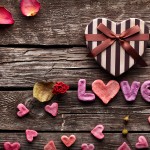 in going out for dinner or doing some of the more traditional celebrations (if you are, that's great!) then choose to make the day about connecting in a way that you both believe in and can stand for. Maybe you go out for a hike, or you make dinner in. Perhaps you take a drive somewhere to go for coffee or you invest in a lovely bottle of wine that you both enjoy and savor it after the kids have gone to bed. Whatever it is that makes you feel connected, make Valentines about that.
Too often in relationships we fall into the day to day and lose sight of the importance behind taking a day to recognize all that we are grateful for in our relationship. While I think this is something we should aim to do every day of the year (or at least every month), it is important to take the day to acknowledge your partner in a way that would make him or her feel special and important to you. You can choose to do this in the traditional way (dinner, cards, sex etc) or start your own tradition about how you want to celebrate the connection you two have.
If you are single, Valentines day can feel incredibly isolating and like a painful reminder that you don't have a partner. While it is important to acknowledge those feelings, I also think it is important that, instead of boycotting the day altogether, you use that time to do something special for yourself. Take yourself on a date to the spa, make yourself a beautiful dinner that requires more time and energy than you would usually invest. Perhaps you buy yourself a lovely bottle of wine and enjoy it while eating take out from your favorite restaurant and watching a movie. Use the day to celebrate the relationship with yourself. After all, that is the most important relationship in your life and the one that shapes the type of connection you will have with your future partner.
Whether single or happily coupled, Valentines day is a day about acknowledging the important relationships in your life. So take today to acknowledge those special people in your life (including yourself) by investing a little more into that relationship today.