People who struggle with eating disorders are more often than not alarmingly hard on themselves. Despite all the things they do right they always seem to believe that they aren't doing things well enough. This usually comes down to the belief that they themselves aren't good enough. But here is the truth: You Are Good Enough, You Are Worthy Enough and most importantly just as you are You Are Enough.
With that in mind I want to make mention of one area that you are doing more than a good enough job. Recovery. Recovery can and may be one of the most difficult things you will do in your life. I found this image online the other day and I found it very suiting to what recovery looks like: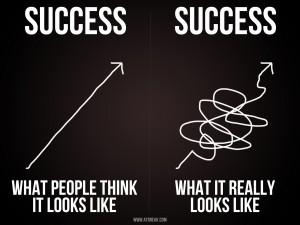 It is never a straight line to the finish line. We have lots of bumps along the road and sometimes it can look like peaks and valleys. As hard as this is, it is also okay. Most people come in determined to get well and really hope it can happen really quickly. I don't blame them, I would want that too. It often, however, takes more than a few months to really beat this thing.
My point is, even if it feels like you aren't making a lot of movement, and/or if you are getting discouraged take a moment to realize that any effort is better than no effort. Recovering from an eating disorder is quite literally a full time job. It takes a lot of time, effort, thought and energy. The challenge is that life doesn't stop just because you have an eating disorder. So be kind to yourself, stop beating yourself up for feeling like this isn't easy…it's not. Instead, realize that each day you wake up and try you are one step closer to being free.
What are some of the things you say to yourself to get yourself through a hard day? Leave a comment below, you never know how many people you will help by doing so!