Every once in awhile opportunities arise that can give us the chance to heal in ways we wouldn't have otherwise known were possible. Sometimes these opportunities allow us to free ourselves from the restraints we place (or our disorder places) upon ourselves and we get to see what we are really capable of. The opportunity that I think provides this for women between the ages of 14-24 is the Looking Glass Foundation Summer Camp.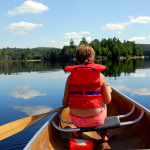 This camp gives individuals the chance to see themselves as more than just their eating disorder. It challenges campers to face their fears, overcome obstacles and celebrate who they are as whole beings in an environment that is emotionally supportive, geographically beautiful and genuinely fun. From my experience individuals come out with relationships that are rich and colorful in ways that can sometimes be hard to have in their day to day lives because of their eating disorder.
It also gives parents respite for a week where they know their daughter is safe and taken care of by a group of trained professionals who will support them while also encouraging them to let go and have fun.
If you or anybody you know would benefit from attending this camp then click on this link to find out more information and to fill out an application.
Hope to see you there!