Take a moment to think back to the beginning of your relationship. Do you remember all the fun and silly things you used to do that would entertain you for hours? Whether it be driving in the car singing as loud as possible, going to the beach to play frisbee, or, as was the case for my fiance and I when we first met, making snow angels and having snowball fights.
At the beginning of a relationship we put an emphasis on going out and having fun with our new love and doing so excites us and leaves us feeling connected (and often enamored). Unfortunately, the longer we stay together the more we start to focus on our day-to-day tasks and responsibilities and can find it difficult to find time for play.  Play is critical in relationships to keep them alive and growing.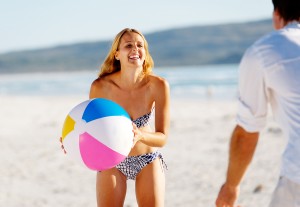 So what is the trick to incorporating more Charades into your relationship?
Making Time! As I always say to the couples I work with if things don't change then things don't change. With everyone's busy schedules it will be hard to find time for play, instead you will have to schedule it in and make time for pl
ay. Perhaps you create a time every week that you designate play time (which means phones off, computers away and TVs off). If that doesn't seem like it will fit into your schedule then aim for every 2 weeks or even one solid chunk of time once a month.
It is important that you make this a priority. If you don't, you may find yourself in a relationship that feels uninteresting or disconnected. So make some time, schedule it into the calendar and then dream of the different ways that you would like to incorporate some play back into your relationship.
If you are stuck on ideas, below are a few that may get you going:
1)   Join a sports team or race together
2)   Pick up your favorite childhood board game and have a games night.
3)   Play strip poker
4)   Go to a concert together
5)   Take a cooking class
6)   Have a water fight at the beach
7)   Discover a new area of your province once a month
8)   Crank your favorite tunes and have a dance party
9)   Go to a playground and play on the swings
10) Go tobogganing
Whatever it is, go enjoy it!
Happy Loving!