There has been a lot coming out lately about conflict in relationships and why it is healthy. As a therapist, I often hear couples say they are fighting all the time, or, on the flip side, that they never fight and are scared of doing so.
Conflict, when done correctly, is actually one of the healthiest things for a relationship. It promotes growth and also shows that couples are willing to have a difficult conversation in order to work through their feelings. Of course, when I discuss conflict here, I am talking about a healthy amount of disagreement done in a healthy and respectful way. So what is it that separates out healthy conflict from its destructive counterpart?
As noted in an article in the Business Insider, a recent study done by psychologists Amie Gordon and Serena Chen at the University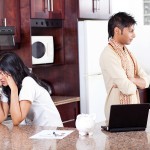 of California, Berkeley, has shown that conflict is healthy and growth promoting when both individuals leave the disagreement feeling understood. In addition, couples who use "affection, humor, and effective problem solving" are the best at handling and working through conflict positively. Of course it is important to note that while humor is important, appropriate humor that is still sensitive to each individual's feelings is critical. (In other words, backhanded, dismissive humor typically does more damage).
John Gottman, a leading relationship expert based out of Seattle, has highlighted four components needed to become more comfortable and skilled at these difficult conversations:
 Putting your emotions into words. Your partner's best attempts at listening aren't going to be fruitful unless you can articulate what's happening in your head. It's about "being able to put your emotions into words that really are what you actually feel," Gottman says. "Knowing where you feel tense, what relaxed feels like, what truth feels like." A meditation-like technique called Focusing helps with developing these skills.
Asking open-ended questions. Open-ended questions allow you to explore your partner's feelings. "They open up the heart and have acceptance at the base of them,"Gottman says. For example, you might ask: So what do you feel about this living room — how would you change it if you had all the money in the world? What do you want your life to be like in three years? How do you like your job?
Making open-ended statements. "These are exploratory statements," he says, where you encourage your partner to tell you a story. For instance: I want to hear all of your thoughts about quitting your job. I want to hear all of your thoughts about your job.
Empathizing with your partner. Rather than saying you understand, show that you understand. "Empathy is really communicating that you understand your partner's feelings and they make sense to you," Gottman says. "It's really caring about your partner's welfare, not just your own."