Let's face it, we live in a time where we are often more tuned into some form of technology than we are to each other. While I can't say I think this is always healthy I do believe that if we are going to be tuned into our phones or computers, perhaps we could spend some time connecting with our partners using certain apps.  Below are a list of a few apps that might help you communicate, stay on top of tasks and even spice up the bedroom.
Give Appreciation by Gottman: The Gottman Institute is a leading relationship institute based out of Seattle Washington. The Give Appreciation app helps you express gratitude to your partner for the big and little things. Expressing gratitude helps strengthen your connection and can help make you closer. Sometimes it can be hard in our day-to-day lives to think of these things, this app helps make that easier!
Couple Relationship App for 2: This app is almost like a private facebook app for you and your significant other. It helps create as many possible types of connection (text message, photos, videos, drawings, kisses etc) when you are physically apart. Interestingly this app was created by a few businessmen who were tired of not being able to stay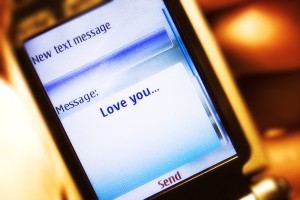 connected to their wives when they were away on business trips. It also helps you keep track of important dates and shared tasks.
Wunderlist: Do you ever find yourself frustrated because you have asked your partner to do something and they keep forgetting to do it? This app allows you to stay on top of your to-do list without having to constantly remind your partner about them. If you both have the app you can sync your lists, add new tasks and check them off as you complete them. While it isn't necessarily romantic it helps keep you both on the same page so there is more time for the important stuff at the end of the day.
HeyTell: Let's be honest, we all have silly voices that we use only around our partner – voices that we likely wouldn't be caught dead using with anyone else. HeyTell is a perfect way to remind your partner you love them in your own unique way even when you aren't together. It allows you to record short voice messages and send them to your partner. They receive a notification that you've messaged and open the app to play your message.
Kindu: Now to spice things up! Kindu is the ultimate app for exploring your sexuality with your partner. It has over 600 examples of turn ons, role plays and activities that each person privately responds either yes, no or maybe to and then Kindu reveals the answers that you share with your partner. Your answers stay confidential so if you say yes but your partner says no, your partner will never know.
Kahnoodle: You know all those IOU's that you have promised each other over the span of your relationship? Well Kahnoodle has taken those old scraps of paper and digitalized them so that you and your partner can send each other something "new, naughty or nice." It helps you thank your partner for all they do by giving them "Kudos" and can also act as a game where you guys try to keep your love tank full by earning kudos and redeeming coupons.
AllRecipes Dinner Spinner: This app will help you come up with some great recipe ideas to cook your partner a great meal. Is your fridge already full but don't know what to make? You can list some of your ingredients on hand and it will create meal ideas for you. Short on time? You can search under the "Done In…" category for quick and easy meals. There really is nothing quite like a home cooked meal specially prepared for your loved one. Use this app and romantic dinners will be a breeze!
What are your favorite apps that you share with your significant other? Post them below so I can check them out!