I have been in this field for quite some time now and I will often get asked about my own journey to recovery. What was it that allowed me to recove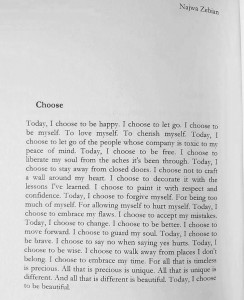 r? How did I know I was recovered? Do really feel free of all of those nasty and obsessive thoughts that trapped me for many years? While those questions are important for each person to ask of themselves, I often find it difficult to answer because what enables or promotes recovery for one, may do absolutely nothing for another. With that being said, a dear friend of mine sent me this quote this week and when I read it I feel it encapsulates a lot of what I had to learn (because I definitely didn't know it) and a lot of what I still have to focus on practicing each day.
I can't say that I learnt or mastered all of these things when I first recovered 10 years ago, some yes, but definitely not others. Many took time and I am still studying and trying to choose them daily. This quote speaks to how I feel we all need to see and treat ourselves, especially when we are struggling with an eating disorder.I don't presume that these choices are all easy, or that we all feel able or ready to make these choices at any given moment. I do practice from the belief, however, that we have to make really intentional choices to be better to ourselves in order to recover.  It is the choice to believe that our life, our being and ourselves are worth choosing -healthily, kindly, respectfully and intentionally – each and every day. So what are you going to choose today? Write it in the comment section and allow yourself to choose you and your life over the destructive things that prevent you from embracing your beautiful self.