I am back talking about Nate Bagley's loveumentary again but this time about a different thing he addressed in his article. One of the pieces of advice he received from couples about conflict resolution was learning to fight without having to win.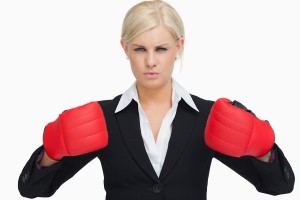 I must admit I can find this tricky sometimes if I am wrapped up in the moment and feeling pretty triggered, but if you think about it, fighting to win is like sending your relationship into combat zone without a weapon. One of you is going to come back injured and there are only so many injuries anyone can sustain before falling down. It is important to remember that your partner is on your team and the best resolution is the one where you both feel inspired to improve not where one is left defeated.
The thing about relationships is that we are going to fight. You can't have two different people live together and share a life together and not ever disagree. It is healthy to be assertive in relationships and to set boundaries. It is toxic to be aggressive. . The main reason this happens is because we are dealing with vulnerable issues and we are afraid to get hurt. We start using whatever defenses we can find to protect ourselves (including name calling, silent treatment, accusing etc) without realizing that doing so prevents closeness – the very thing we need to feel connected and safe in our relationships.
So, as the saying goes, if you are going to fight then fight fair. Below are a few resources that may help you if you're struggling to see your partner as your ally during disagreements. The last resource has a piece on religion in there. While I don't come from a religious perspective on this 24/25 points apply to everyone.
http://www.womansday.com/sex-relationships/dating-marriage/fight-fair-to-improve-your-relationship-106029
https://www.counseling.ufl.edu/cwc/fair-fighting-in-intimate-relationships.aspx
http://www.nathancobb.com/fair-fighting-rules.html
http://www.foryourmarriage.org/25-ways-to-fight-fair/