Wow , it is officially 2016. I must admit, I am very much ready to be in this year and to soak up all it has to offer. One of the few things I love about the new year (in many ways it just feels like another day) is how it can encourage us to have a fresh start and to focus on what it is we really want for ourselves. I spend a lot of time helping individuals overcome their painful relationships with food and their body and while I am not a huge advocate for New Years resolutions, this year I am going to challenge you to spend this year trying one thing that I think will move you forward in your recovery in a manageable, but significant, way.
Step into what is uncomfortable, and give yourself permission to avoid what is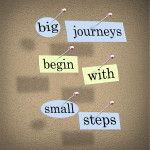 intolerable.
Often when we think of recovery we focus on major steps that we tell ourselves we "should" or "have" to take to get well. In all honesty, these steps are usually so massive that we are overwhelmed before we even finish the thought. What then happens is we stay frozen and dn't take steps towards what it is our healthy side really wants for ourselves – to be free of our eating disorder or disordered eating.
So what I recommend is to avoid what is intolerable but embrace what is uncomfortable. Nobody said recovery would be easy, but it also doesn't have to be impossible.
For example, one of my clients who struggles with an eating disorder finds it incredibly difficult to sit down at a table and eat a meal with her family. It isn't that she doesn't want to spend the time with them but rather that she feels everyone is staring at her and she feels eating becomes almost impossible in those moments. What she has discovered, however, is that taking her meal and enjoying it while watching her favorite show or playing on the internet makes eating easier and less anxiety provoking because she is doing something she enjoys while eating.
So what have I encouraged?
At this point in her recovery eating is still difficult for her and therefore it is more important that she eat than eat with people or focus on her family or mindfully eating. So for the time being I have encouraged her to eat her meals while watching her favorite shows. As her additional challenge she is asked to sit with her family while they eat dinner and have a cup of tea or her snack which is usually a piece of fruit.
This is uncomfortable for her but it's not intolerable the way eating her whole meal with her family can be. The focus is on challenging her to take responsibility for her recovery in manageable ways.
So what are the uncomfortable steps you are going to take? Is it learning to eat breakfast? Or perhaps its challenging yourself to eat mindfully during one of your meals. Whatever it is, share it in the comment section below so others can learn from you. As we enter into a new year, give yourself permission to be successful in ways that make you realize just how capable and strong you are.